Well a lot of people will know that I run 'Model Horse Love' along with Rachel Smith and Christine Sutcliffe... In September this year we held a live show in Leicestershire! It was such good fun but I never managed to do a full blown report on it, the day was so hectic but it was lovely to meet loads of people and have support.
I had been getting horrible anxiety and panic attacks over the summer and they are slowly starting to subside as I am learning how to deal with them, I got a touch of anxiety at the show but it was me rushing around and being silly! A lot of my horses that I had painted did very well for me at the show and I am very pleased with my finish work these days...
I acquired an airbrush to paint my models last March/April time, just as I had stopped to update my blog!! How unfortunate is that, LOL! But I am back now anyway and I can share model horsey goodness with you all. :-) Soooo here are some photos from the MHL live that I would like to share with you!
First of all is this little AA Welshie I painted to a lovely bay, he got third in his class (and at FITS in the summer he got a 1st!!)I am keeping him for my collection now because he is so sweet, and in a recent trade I got hold of another to paint... Stay tuned with him!!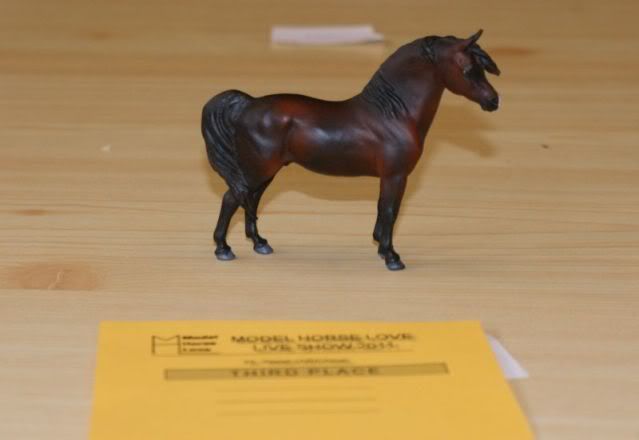 Next up is Take Me On, my lovely little micro shetland that just does so well for me at shows! He came second in his class here, but in previous shows he gained a Reserve Champion position:
Here is the photo of him and his rosette from the other show:
So as you can tell, I am very proud of my little pony!! My Jellibaby got a 1st in her class at the MHL Live too, here is a photo of her with her little win. She has got much more placings than this but I shouldn't bombard you all with endless photos...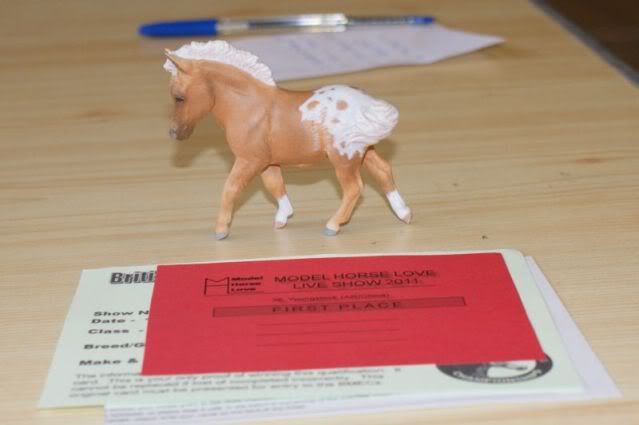 There are so many more photos of my horses and their placings, I really can't list them all I am afraid... But I hope you enjoyed these photos! Pretty much every time my horses enter a show ring, they come out with a placing of some description and it makes me so happy, my placings are getting higher and higher as my standards are increasing with every custom and it is exciting and thrilling to watch my skills improve with every model!
Thanks for letting me share!
Clare